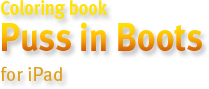 Coloring book Puss in Boots for iPad
Travel across the old good fairy tale with Puss in Boots! Our unique digital interactive coloring book is adapted for young children.
This new application will also help reveal your child's artistic talents through an extra feature that allows children create their own drawings.

▪ a choice of drawing tools: "Paint Bucket" and "Brush", brush size can be changed
▪ 32 colors
▪ an option to undo last action
▪ an option to work with saved drawings
▪ an option to save images in "My Drawings" and iPad "Photo Album"
▪ "Blank Page" – create your own drawing

Our application will be loved by children and grownups. Enjoy creativity together as a family!